Minx loved Christmas. It was her favorite holiday.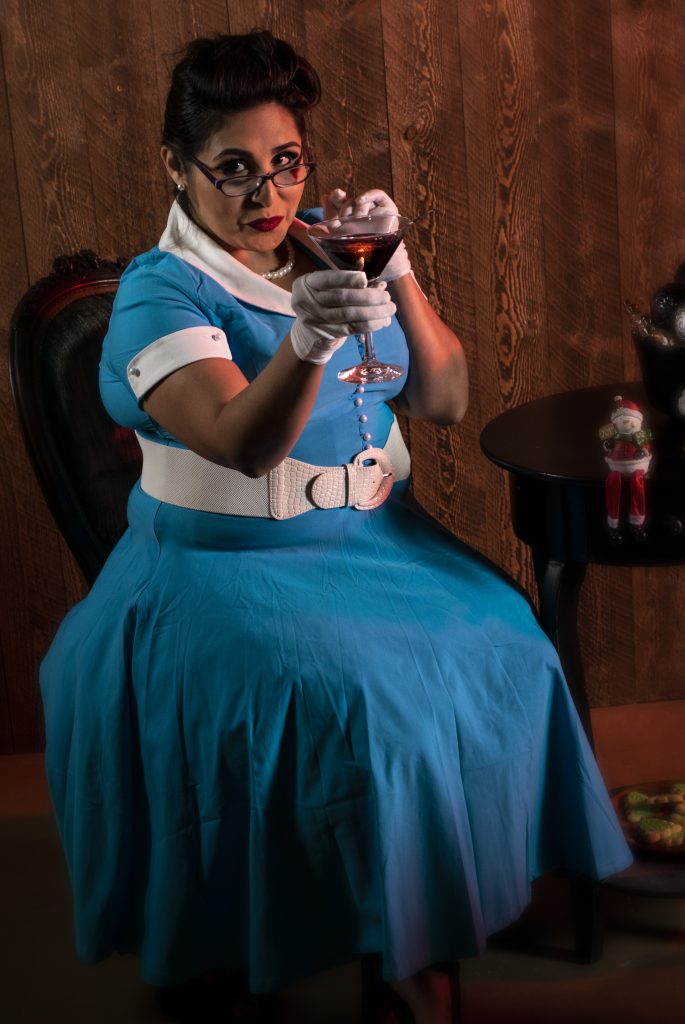 The music, the decorations… the lights… the cocktails…
And she just LOVED carving the Christmas turkey.
Cutting… slicing… slicing.. cutting…
Especially the slicing!
And the cutting!
She also loved the decorations! All sparkly and bright!
What fun could she have with the garland?
What FUN could she have with the garland?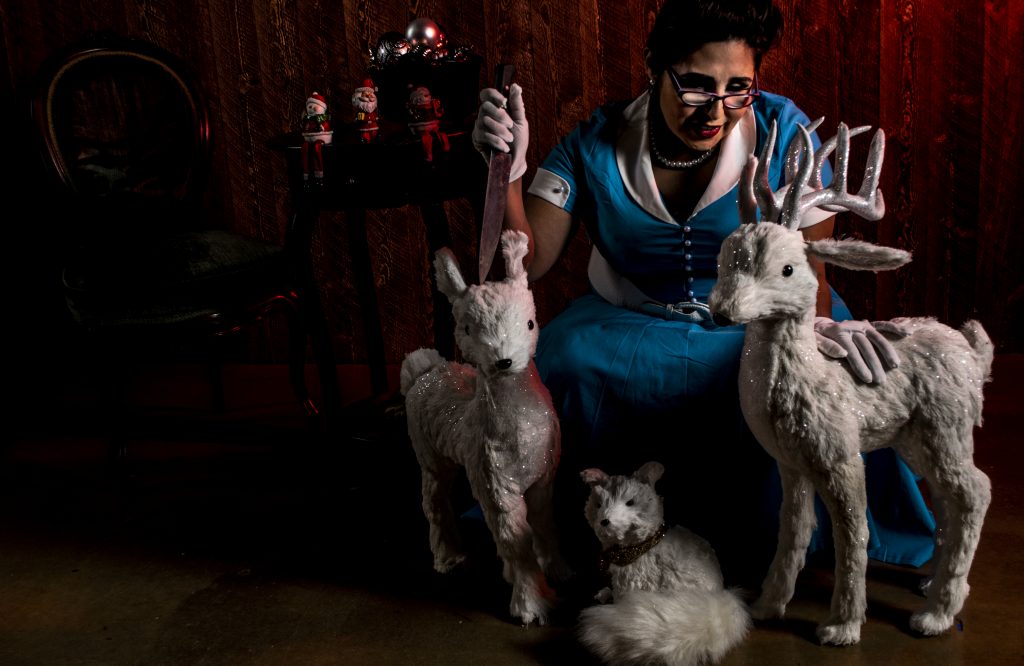 Well, Dancer, Prancer, and little fox… I can't wait to see what you think of our latest Christmas "Tree." I searched the local woods, found the perfect specimen, and cut it down myself!
I do SO hope you love it!
Well, he makes a lovely tree… but he needs something, don't you think so Dancer
Some sort of "sparkle?"
He just doesn't sparkle.
Some lights? Maybe that will help.
Oh yes,  that  creates more  sparkle! I love sparkle!
Chin up, sweetie!  Look lively, there! You don't want to look like a corpse.
I know! A lovely martini will liven you up!
How about a cookie, sweetie? Will that make you feel better?
Oh wait… you have a little something here on your cheek. Let me get that for you.
Well, he's starting to sparkle, but I think he needs something more. What do you think, Sin?
Sin?
Sin?
Don't be shy!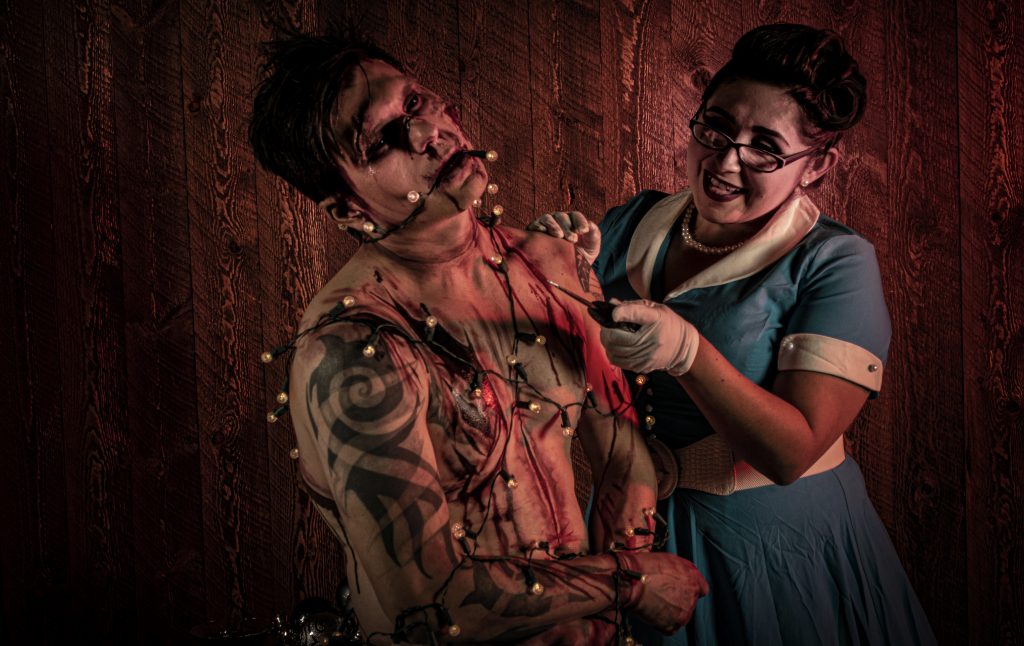 I could do some more slicing… and cutting… did you like the cutting and slicing?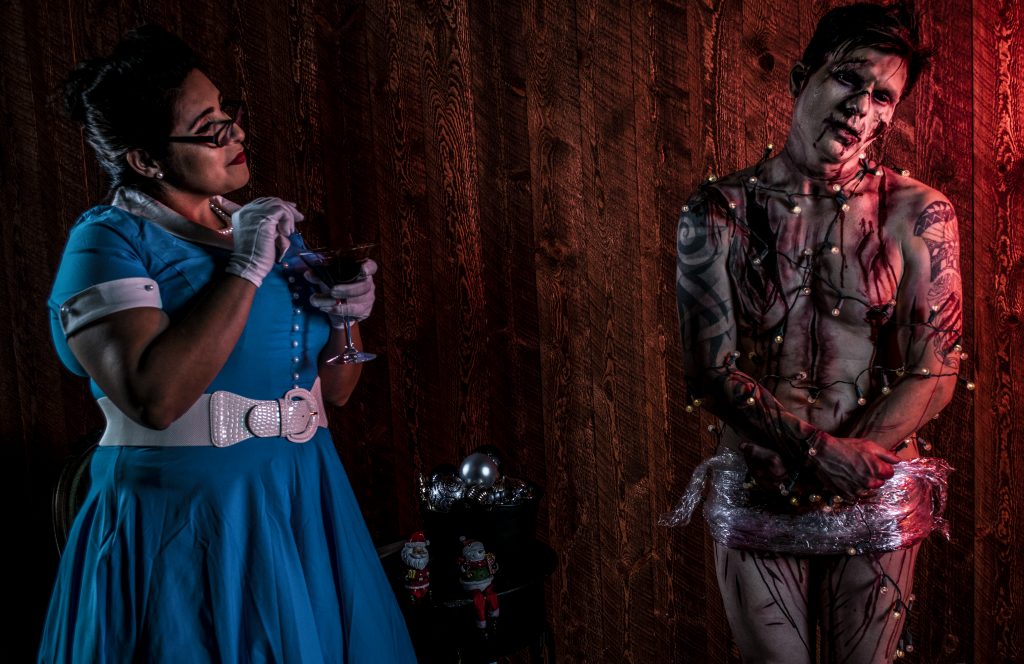 Well, Sin certainly is lovely so far… but he needs something more… hmmm…..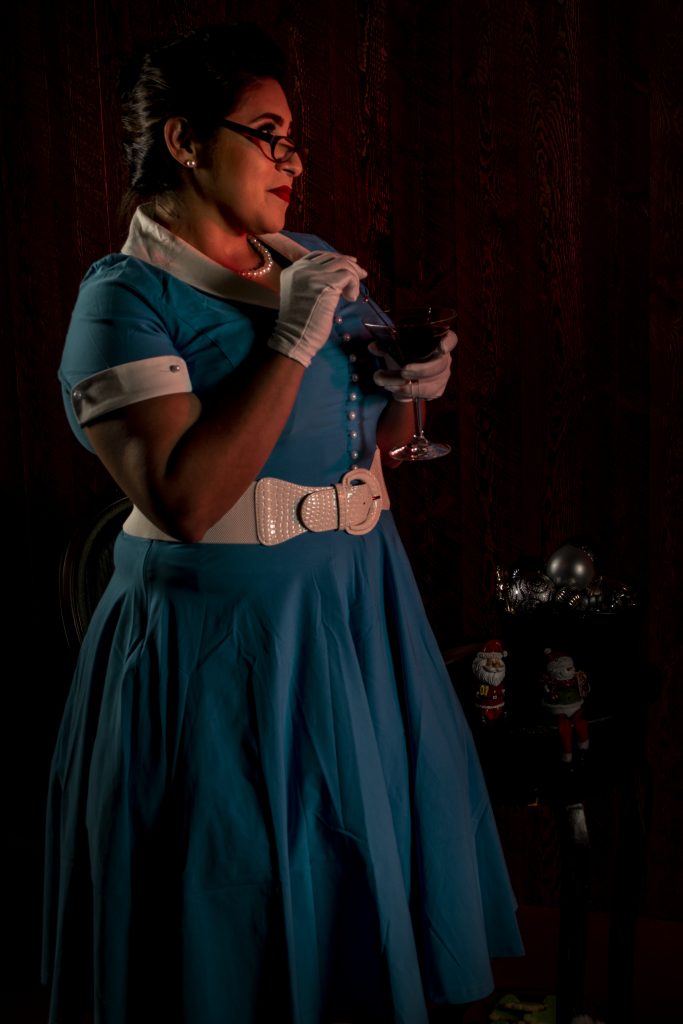 What else can I do to make him more beautiful?
What else can I do?
What else?
Oh wait, I know….
Garland!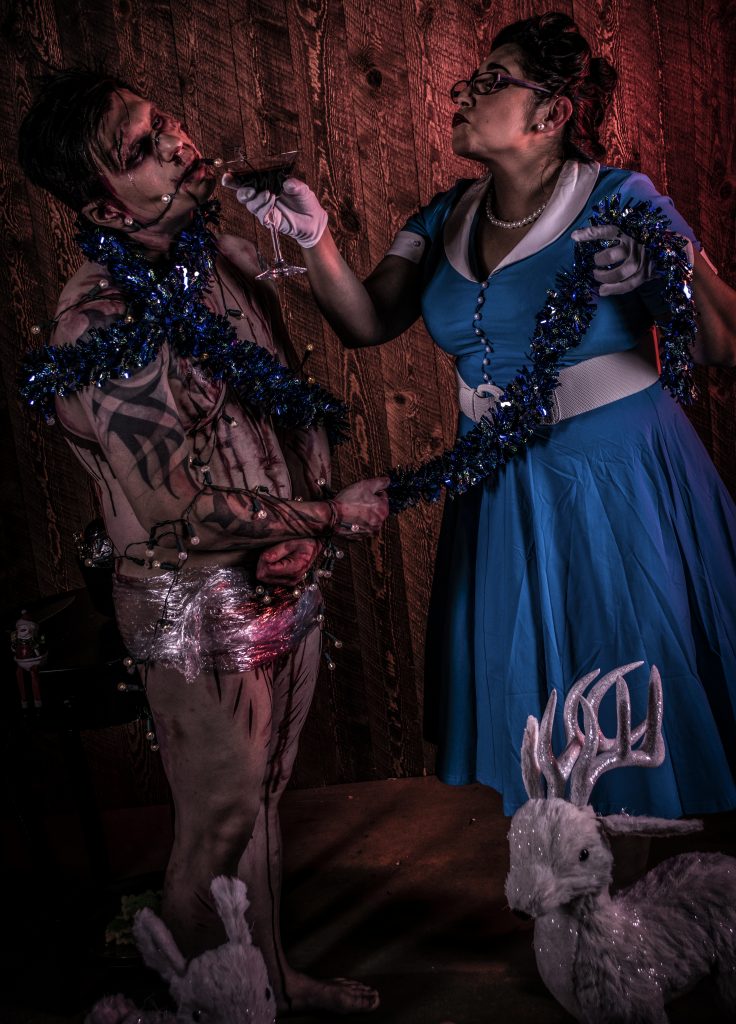 It's a party, sweetie! All sparkles and martinis!
Isn't this grand?
Of course it is! Drink up!
It's a party! Come on, Sin! Get in the spirit…. oh, wait…
It's Feliz Navidad! Come on… let's dance! I love this song!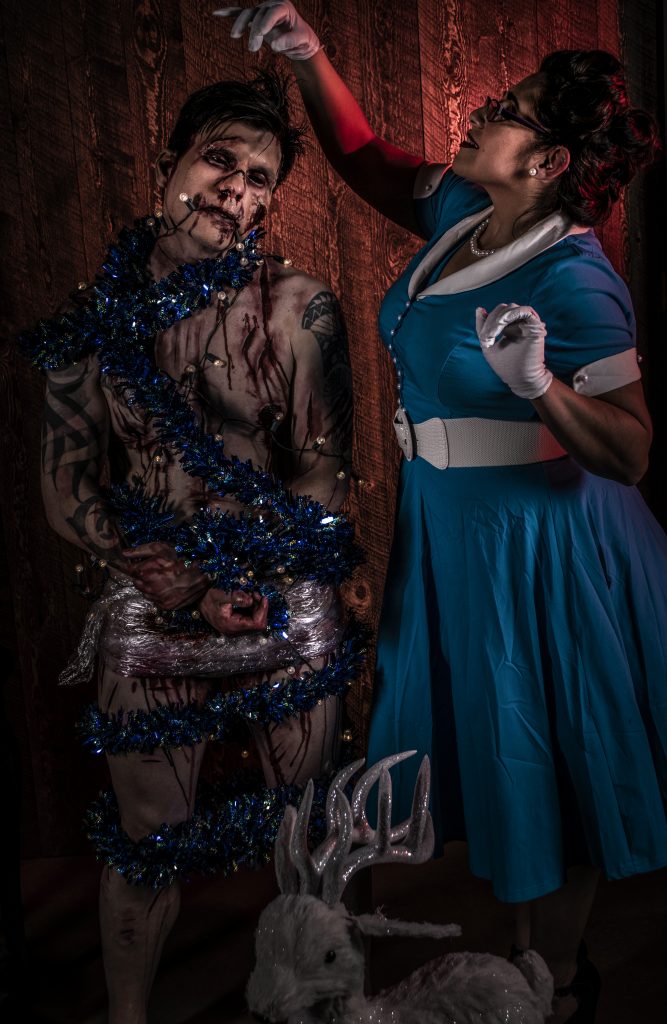 Oh…. you have a hair out of place… can't have that, what will the neighbors think? Really, Sin, it's like you just don't care about your appearance.
It's the details that matter. No matter your passion, make sure you arrange all the details perfectly.
Ta-daaa! Have you ever seen a more perfect Christmas Tree? Lights, garland and ornaments!
Sooooo sparkly!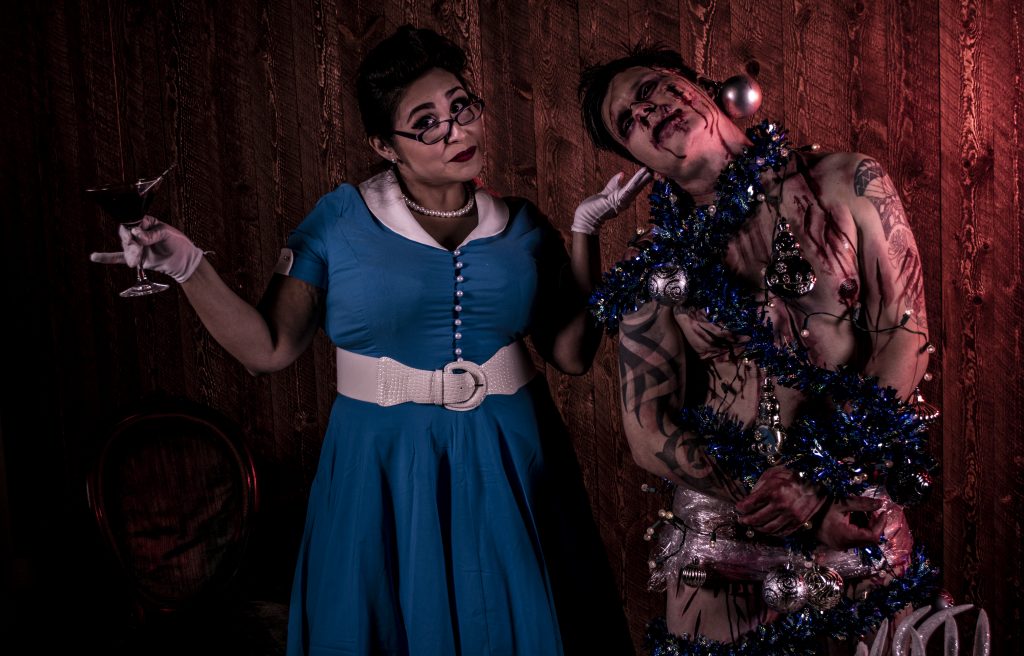 Never had a better Christmas Tree… Just sayin'… have you ever seen a sight so lovely?
Do you agree, cartoon bird?
Cartoon bird: That's way prettier than anything the bitch with the dwarves ever made! It sparkles! You go, girl!
Merry Christmas and Happy Holidays to all!
May you all make your Holiday dreams come true.
I sure did. Best Christmas ever!
Mmph, mmrrrgh ffffffffffff…..
Always respect Mr. Stabby.
Are you ready to play nice?
Mff mmmffff yee a merrfff Christmmmmff…..
But wait… did Sin survive?
Did he escape?
Will he have his revenge?
Tune in during Christmas 2020 to find out!
Are you afraid of Clowns?
I hope not!
Cast (in order of appearance)
Serial Killer……. Cyndi Minx Lopez
Christmas Tree………Sin Jose Viruet
Crew
Photographer….John Robert Mack
Makeup…..Shauna Burns and Candice Hill
Production Assistant……Eddie Dennis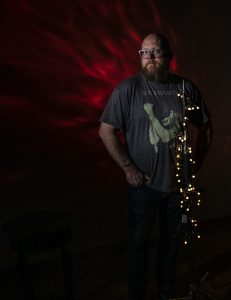 Photographed at SA Studios, in San Antonio Texas.